Shark Tank 5 episode 2: Shark Le Hung Anh closed 2 big deals, invested 1 million USD for sandals startup
12 Jun, 2022 (GMT+7)
Export To PDF
Episode 2 Shark Tank season 5 welcomed four potential startups. Shark Le Hung Anh accelerated the negotiation to close two big deals: 1 million USD for a sandals startup and 10 billion VND for a manufacturing industrial robotic arms startup.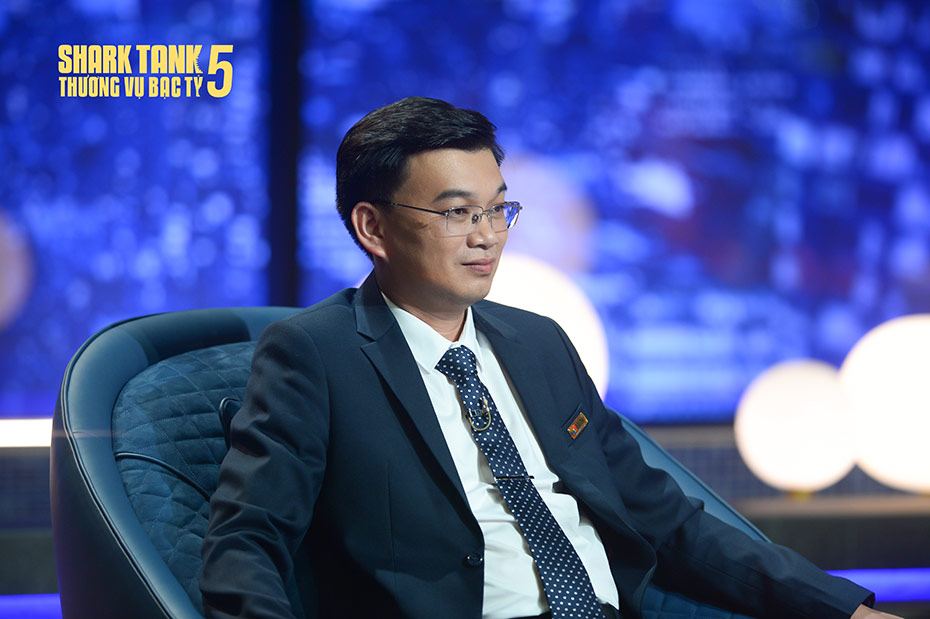 Shark Le Hung Anh closed a 1 million USD deal for a startup because of a similar outlook on life.
After the performance of a young rapper Ricky Star, Tran Pham Thong Hiep - Founder and CEO of Shondo, appeared and called for an investment of 1 million USD for 10% shares.
What's unique about Shondo sandals startup?
Shondo is a sandals startup for young people, established in 2014. Shondo has 20 stores, two factories, and hundreds of sales agents nationwide.
Shondo's USP (Unique Selling Point) is diverse, beautiful, and distinctive designs produced and designed by itself. Shondo has sold more than 1 million pairs of shoes in the market until now. In 2021, although it only sold for four months, Shondo still achieved about 60 billion dongs in revenue.
Shondo's customer segment is young people from 12 to 25 years old. Shondo has a fan page of nearly 1 million likes, and customers from middle and high schools support this brand.
Thong Hiep shared the desire to seek 1 million USD to expand the system of stores, factories, and warehouses nationwide and upgrade customer service to increase the shopping experience.
Realizing the potential of the footwear market, 3 Sharks came up with a deal.
Shark Le Hung Anh thinks that with 1 million USD in 10 years, the compound interest in the bank is also higher. In addition, the investment in building a flagship system will increase fixed costs, directly affecting the startup's profit.
Realizing that the footwear market in Vietnam still has a lot of potential, all 3 Sharks Hung Anh, Shark Binh, and Shark Phu were interested in this startup, which raised many questions.
If the product is out of trend, what will Shondo do? - Shark Le Hung Anh raised a question. Thong Hiep said they would consider reducing the price if they could not sell the products. However, the answer of founder Shondo made the Sharks unhappy because they thought that lowering the price would run out of profits. The significant discount will make customers have the habit of waiting for sale seasons; when a new model is released, there are no buyers.
Shark Le Hung Anh made the first deal with an investment proposal of 23 billion for 45% Shondo. It was followed by Shark Binh offering to invest 23 billion in exchange for 35% of shares and Shark Phu offering to invest 23 billion with the company value being the average profit of the last two years multiplied by 15 times (equivalent to PE equal to 15).
In the face of competition from Shark Phu and Shark Binh, Shark Hung Anh changed his investment proposal, giving a figure of 23 billion to own 30% of Shondo's shares. "I do international business; I will bring your products to foreign markets. I already have many branches in the USA, UK, Singapore, and Hong Kong." Shark Le Hung Anh convinced the startup.
Shark Le Hung Anh said he would help this startup promote digital marketing, e-commerce, and access to customer data in the international market. Implementing multi-channel online sales and applying technology are the forte of BIN Corporation's ecosystem with BIN Media and Papmall.
Startup asked Sharks about their outlook on life before making a deal.
There are three "Sharks" who want to invest in Shondo. However, before accepting the deal, this startup asked about the Sharks' view of life for the first time on Shark Tank season 5.
Shark Le Hung Anh said he noticed the enthusiasm in Thong Hiep's eyes and encouraged him to have faith in what he had done. "I decided to invest in letting you do it, not interfere too deeply in your work. I will be your companion to exchange; what is difficult will support you to the maximum", Shark Hung Anh affirmed.
After listening to the sharing of Sharks, Thong Hiep said that he liked Shark Hung Anh the most, so he would close 23 billion for 30% of shares with the Chairman of BIN Corporation.
Shark Le Hung Anh invested 10 billion VND because he was impressed with the spirit of a startup from the country's central region.
The last startup in episode 2 of Shark Tank Vietnam season 5 is Doan Hong Trung - Founder and CEO of IMWI Technology JSC, specializing in robotics and artificial intelligence.
A startup wants to stay in Da Nang to set up a factory here
Founder Hong Trung called for investment with two options: $300,000 for 5% shares and $1.5 million for 20% shares with potential products – Delta X Robot Arm. Hong Trung said he wants to build a factory and an ecosystem of other robotic arms.
Delta X robot is a robotic arm applied in industrial production lines. This type of robot with delta geometry is commonly used in product picking applications.
The price of delta robots in the market is very high and unsuitable for individuals or organizations with limited capital. That's why he created Delta X at an affordable price.
Delta X Robot's 2021 revenue is 4.1 billion, with a gross profit of about 3.2 billion and a net profit of 1.5 billion. Hong Trung is confident that when he can raise capital, mass-produce, and put certificates into robots, his startup can sell 3,000 units in 1-2 years.
In the past two years, his startup has had customers from 45 countries worldwide, mainly from the US and Europe, and has a large order from a Korean mask manufacturing company.
Hong Trung said he desired to set up a factory in Da Nang because many talented people had left Da Nang, and he wanted to do something for Da Nang, the country's central region. "My purpose is to create jobs, not just to make a profit for myself," Hong Trung added.
Shark Le Hung Anh closed the deal because he was impressed with the spirit of a startup from the country's central region.
The idea of ​​placing the factory in Da Nang did not receive the consent of Sharks. While Shark Binh, Shark Lien, Shark Hung, and Shark Phu left Shark Tank, Shark Hung Anh said he was interested in the company's size and current share ratio. He also likes the energy of Hong Trung.
"I would like to assist you with operational matters. I see you are only passionate about technology, but not capable of operating, not able to launch a full-scale business that can be sold abroad", Shark Le Hung commented.
After negotiation, Shark Le Hung Anh emphasized that this is a venture investment. Therefore, he proposed to keep 35% of shares and 35% of profits until Hong Trung could raise capital so that Shark could reduce the ratio to 15%.
Finally, Hong Trung agreed to this investment proposal of Shark Hung Anh.
At the end of episode 2, Shark Tank Vietnam season 5, Shark Hung Anh closed two big deals with Shondo startup and robot arm startup Delta X. Startup built an NFT issuance platform - Vmeta, invested 50,000 USD by Shark Lien. Meanwhile, the dating app startup Fika with a business valuation of $147 million, left empty-handed.
Follow Shark Le Hung Anh at: https://www.facebook.com/SharkLeHungAnh.
For more information, please contact: