Sales Team Lead - Meliwa
Closing Date: 08 Mar, 2024
Office Location: Vietnam Office
I. JOB INFORMATION
| | |
| --- | --- |
| Quantity | 1 |
| Title | Sales Team Lead |
| Type of work | Full-time employee |
| Industry/Field | Electronic Appliances |
II. GENERAL INTRODUCTION
BIN Corporation Group is a multi-disciplinary company headquartered in Ho Chi Minh City, expanding its international operations with offices in Singapore, Hong Kong, Lithuania, the United States, and Canada. BIN Corporation Group operates in many fields from business management consulting, financial consulting, digital marketing, e-commerce, electronic electronics, tourism, information technology, etc.
Meliwa (a member of BIN Corporation Group) is a household electronics brand from Singapore that entered the Vietnamese market at the beginning of 2023, with the desire to bring Vietnamese consumers the best international quality products in the world. In addition to household electricity, meliwa focuses on not only developing high-quality home electronics and healthcare, but also the R&D aspect (research and development) to create household electrical products with advanced technology and luxurious design, making the living space of customers more beautiful, comfortable, and modern. The target customers of Meliwa are the young (from 25-35 years old) who have modern lifestyles, are proficient in technology and the internet, and tend to make purchases online. The brand's products are highly appreciated for their modern features and luxurious designs and are also used to decorate living spaces more aesthetically.
To meet the needs of expanding operations, Meliwa recruits Sales Team Lead with the following requirements.
III. JOB DESCRIPTION
Tag skills: sales, management, communication, customer service, planning, analytics
Make and execute sales plans, and allocate sales targets for team members.
Manage, monitor, and support the sales team in executing the plan and achieving the sales targets.
Training, guiding, and developing sales skills, communication skills, and customer care skills for staff.
Monitor and evaluate the performance of sales staff, recommend improvement measures, and reward/discipline when necessary.
Build and develop new sales channels to ensure business strategy and achieve sales target
Conduct meetings, exchange information with large and potential customers, and solve arising problems related to customers.
Organize and participate in promotional activities, and introduce the company's products/services to customers.
Report business results, market situation, competitors, and advice to develop a sales strategy for higher management.
Work closely with other departments such as Marketing, Product, and Customer Service to ensure practical sales activities and achieve the common goals of the company.
Perform other duties as requested by superiors.
IV. JOB REQUIREMENTS
Male aged 25 - 30
University graduate majoring in Business Administration, International Business, or a related discipline
3 years of sales and 2 years of sales management experience. 
Preference will be given to candidates with experience in Consumer Electronics and E-commerce
Skill:

Developing D2C sales channel, Supermarket distribution channel
Negotiation, Persuasion
Managing and training team
Organization, performance management, time management, and multitasking.
Analyze and evaluate the market, competitors
Using sales software, CRM

Foreign Language: Good communication in English.
Requires practical experience.
Honesty - Creativity - Efficiency - Dynamic.
V. BENEFITS
Competitive salary based on ability.
13th-month salary according to state regulations.
Tet bonus according to seniority and capacity.
Bonus 10% salary on holidays in the year 30/4, 2/9, 1/1.
Allowance according to labor law (Children's New Year, Mid-Autumn Festival, Wedding, Maternity).
Health insurance, social insurance.
Young, friendly, and creative working environment.
Support professional and technical training during the probationary period.
Have time to learn new requirements of the profession.
Participating in e-commerce projects in many different fields.
Have the opportunity to interact with new IT infrastructure.
Have the opportunity to learn more about Digital Marketing.
VI. HOW TO APPLY
Curriculum vitae
Job application
Scoreboard (if any)
Degrees and certificates related to the profession
VII. CONTACT INFO
Phone: +84 8 7300 6169 - Branch: 039 - Mr. Khoa
Email:

[email protected]

Website: www.bin.vn
Address: Asian Trade Center Building, 507B Huynh Tan Phat, Tan Thuan Dong Ward, District 7, City. Ho Chi Minh.
Working time: Office hours (8h - 12h00 / 13h00 - 17h00)
Workplace: 153 Tran Trong Cung, Tan Thuan Dong Ward, District 7, City. Ho Chi Minh.
Other Recruitment
This job is in the group
Recruitment process
Register to apply
Receipt and screening of applications
Interview
Result announcement
2 months probation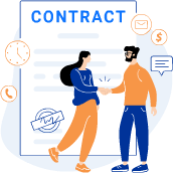 Officially recruited