THE NEW YEAR PARTY 2018 OF BIN HOLDINGS
The New Year party 2018 was the most special event in a year for all employees of BIN Holdings. This is not only one chance for looking back a hard-working year but also a great time for relaxing and refreshing, enjoying happy moments together before starting a long vacation. 
The large and glorious space
The party celebrated in a glorious space of The Adora Premium Conference Center, District 7. All guests invited to party with White-code clothes requirement, took pictures in front of the backdrop when stepping in the red caplet.  

 One IBC Team

VISA Team 

Media Team 


 NNBER and WPC Team

Technical Team 

Marketing Team

In the beginning of the party, Mr.Jimmy, who is Chairman of BIN Holdings, had thanks of speech to look back the company's activities in 2017 and set new target in 2018. He and Board of Directors awarded the merit certificate for excellent managers and excellent employees in each department. 

Outstanding Manager Awards

Excellent Employees Awards
The most impressive part was the performance prepared by teams in BIN Holdings included singing a song and acting a comedy. All members had practiced a lot to bring the most creative and beautiful entertain show for guests.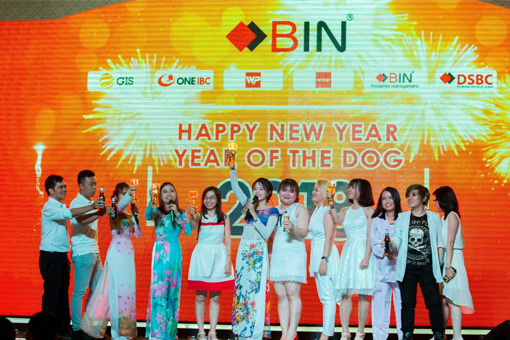 Interesting performances of each teams
After 2 hours of music show, the professional judges made a hard decision to choose the best performances to award. And the best ones belonged to NNBER, Media, Accounting, and One IBC Team for singing; Media, NNBER, Accounting, and VISA Team for comedy acting.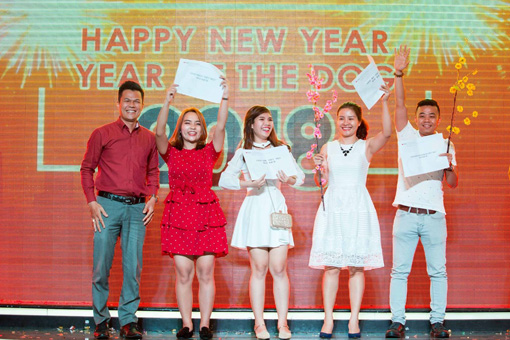 In the end, everyone came to the floor to take a group picture and sing freely. Everyone was so happy and excited, tried to take pictures with friends as much as they could and keep chatting about the new-year party until they needed to come back home. 
The Lunar New Year celebrating party of BIN Holdings closed with a lot of unforgettable memories, united all members of the company and prepared for next shining year.