FIRST BIRTHDAY PARTY IN 2018
When the Lunar New Year is coming closer and closer, members of BIN Holdings joined in the first birthday party for employees born in January with full of happiness.
This party was held in a decorated room on the fourth floor. When people came, there had been many delicious dishes on long tables, and EDM music was turned on.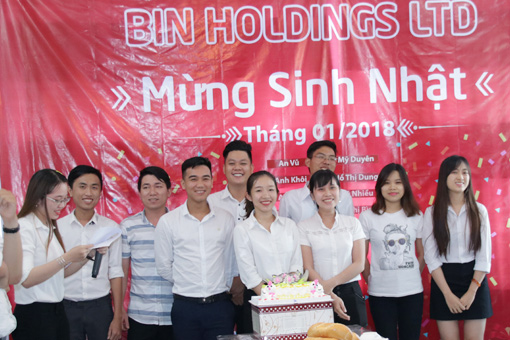 Nine employees born in January
Nine hosts of the party appeared in front of the people, blew the candle on their birthday cake, and received best wishes from attendants. 
Blow candles together
Those hosts divided into two groups and joined in a game called "Hold the book by rulers and answer questions". The winner would get a big present form HR department. 
Hard time but fun for two guys
The players need good balance skill to keep the book stand stable on a ruler while moving and answering hard quizzes. The game brought a joyful and relaxing time to everyone. 
Those girls played so well
At the end of game, the second team won the prize with 5 points in 1 minute and 30 seconds. 
The winner were awared
Last but not least, a new member of NNBER team introduced herself to all of the employees. Hoping she would have a great time in working and gain a lot of successes. 
Welcome a new member of NNBER team
After that, everyone had a snack to charge their energy, readied to continue working with good emotion and health.
Join with BinCG